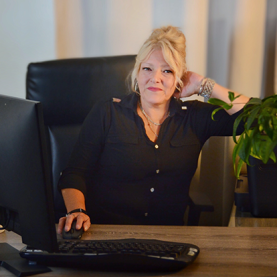 Nathalie - A Career Success Story
Reflecting back to the year 1997, Nathalie Mallette, a proud French-Canadian woman living in Lachute, Quebec, at that time, recalls how well her life was going. At 27, she had a successful career as a hairdresser and a beautiful 14-month-old daughter. This was all about to change overnight due to an unforeseen and unusual accident that would occur while Nathalie received care in the hospital.
Nathalie didn't know it at the time, but this accident would cause her to struggle for over 20 years before she was eventually led to Make A Change Canada in 2017. Through her hard work and dedication as a participant in the organization's programs, Nathalie experienced a positive shift, and was ultimately able to find meaningful work that would accommodate her needs.
Thinking back to the time of the accident, Nathalie realizes, "My life had really just started." In addition to working as a hairdresser, Nathalie was in the process of completing her Grade 12 through an adult education program.
Nathalie recalls the day her challenges began. She experienced disastrous lower back and arm injuries following a simple medical procedure in the hospital. On that fateful day, Nathalie woke up in the hospital after what was to be routine surgery with symptoms she could not explain.
"When I woke up from that simple operation, my heartbeat was fast, [my] blood pressure high, and I had pain crossing from between my shoulder blades to my chest. My legs were trembling, and I had lower back spasms. I never had any health problem [previously]," says Nathalie.
Later, Nathalie learned that she had been dropped while unconscious, and X-rays revealed that there were four displaced vertebrae in her lower back. This explained the reason for her pain and difficulties with movement, but it was the worst news possible for Nathalie, who had always led an active lifestyle that included biking and aerobics.
Considering her options, Nathalie knew that she would be unable to continue working as a hairdresser—a profession she loved dearly. She found it difficult to stand for long periods or walk even short distances. Ultimately, Nathalie would spend over twenty years in search of a new career path as a result of her injuries.
Nathalie's family grew over the years, and she beams with pride as she talks about raising her three daughters and her former career as a hairdresser. Although unable to return to hairdressing, Nathalie was no stranger to adversity—and worked hard to find realistic career alternatives for herself. Thanks to her strong entrepreneurial nature and problem-solving skills, Nathalie realized she needed to reinvent a career for herself in order to have the ability to support her children.
Initially, Nathalie worked as a homecare aide, cooking and cleaning for seniors.
"At least I was helping people like myself who needed the help, and I needed the extra revenue, because having kids you still need money," says Nathalie.
As a homecare aide Nathalie was able to pace her movements and rest as often as she needed.
Nathalie managed to work in this job on a part-time basis for three years before the work became too physically demanding and painful to continue. Ultimately, this type of employment proved too taxing given the severity of her injuries.
Nathalie then turned to accepting a variety of random one-off or temporary jobs working for friends or family. She worked as a barmaid, a painter, and—as a visual artist—she even sold her own artwork as a means to provide for her family.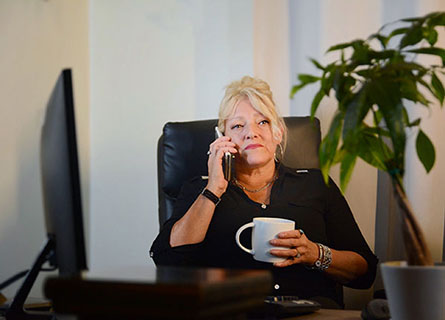 "I had my children to care for and needed money for them," explains Nathalie. However, whatever work she took on caused her pain and discomfort. Nathalie did her best to manage the pain through medication and struggled with being caught in a situation of being highly motivated to work, yet physically disabled.
In 1999, approximately a year and a half after her accident, Nathalie relocated to Kanesatake, a small Mohawk settlement in southwestern Quebec. With the limited job opportunities in this community, and because she did not own a vehicle, Nathalie found herself walking everywhere while still battling the debilitating effects of her injury.
"Up to this day. . .my blood pressure is still high, and I suffer 24 hours a day, seven days a week. I do know that I have four displaced vertebrae," explains Nathalie.
Reassessing her options, Nathalie identified that an office job would be the best solution, because it would allow her to sit and work at a computer while sitting comfortably at a desk—but try as she may—Nathalie could not find a job to meet her needs.
It was now 2007, approximately 10 years after her injuries first occurred, and Nathalie was still unemployed. At this point, Nathalie decided it would be more practical to abandon her job search and create her own work as an entrepreneur.
"Because I was having a hard time finding a job that would meet my needs, I decided why not have my own business and work the hours that I know I can do according to my physical limitations," recounts Nathalie.
But, as the saying goes, sometimes even our best laid plans can go astray. This adage certainly holds true for Nathalie with a whole string of unforeseen events that continued to place roadblocks in her path. Still, Nathalie never gave up!
In 2009 Nathalie received some self-employment assistance and opened her first business called Nat's Helping Hand to sell new and used household products from her home. Set up in her newly renovated basement, Nathalie ran her business successfully for two years until some water damage due to flooding forced her to close down in 2011.
In 2012 Nathalie relocated with her family to Point-Calumet, Quebec, to be closer to the city of Saint-Eustache in order to attend adult education classes being offered there. Nathalie needed access to public transportation, and by moving to Point-Calumet, she could ride the city bus and also be available to walk her daughters to and from school daily. At this point, Nathalie's mother had been living with Nathalie for the past 18 years, and now moved to her younger daughter's place for the next three years. Nathalie had many challenges to overcome—but with true grit and determination—she was successful in achieving her goal to earn her high school diploma.
"I went to adult school to finish my high school while raising my three girls. It was hard because I had no car, so I had to walk two to school and then get on the city bus to my school five days a week. [I had to] come back, [and] walk again to get them from school," explains Nathalie.
In 2015—realizing that by furthering her education to acquire new skills, she could improve her chance of working in a different, more suitable career—Nathalie relocated to Hawkesbury, Ontario, where she could enrol in an administrative training course. Natalie began this next phase of her education in 2016 with the hopes it would finally help her secure an office job.
However, Nathalie's mother then became ill and required care, and needed to move back in with her. These new family responsibilities were important to Nathalie and—while she had completed most of her administrative training—she was unable to complete the final leg of her studies.
Then, in 2018, Nathalie slipped and fell on an icy sidewalk and injured her right arm. The implications were serious, and as Nathalie explains, for two years she could not lift her arm and had pain and numbness running all the way from her shoulder to her hand. Even today, Nathalie has residual pain from this injury.
In spite of all her setbacks, Nathalie was determined to create the best life she possibly could for herself and her three daughters. She remained firm in her determination to find the right employment opportunity.
"Yes, it has been a hard journey for me, but life goes on, right? I have learned a lot from life and I still am not done. I have perseverance and ambition," says Nathalie.
Nathalie remained committed to furthering her education as the means to realizing her career goals. This quest would eventually lead her to apply for Make A Change Canada's online IT skills training program in 2017.
"I found Make A Change Canada online as I was searching for a course in web design," says Nathalie. "I was reading the success stories and thought, oh, that's inspiring to me!"
True to the inner motivation that clearly guides her, Nathalie successfully completed both of the online introductory and advanced web design programs through Make A Change Canada during a one-year period in 2018. This accomplishment earned Nathalie two educational certificates and improved her chance of finding meaningful employment in a field she enjoyed.
With her new IT skills, Nathalie had a foundation in place and, as a result, was able to set out on a brand-new career path that would finally work for her. It was reassuring for Nathalie knowing that she could look for new opportunities and work from home with her new IT skills. This meant she could sit instead of stand and avoid all heavy lifting.
"Like anything in life," reflects Natalie, "you just need time and patience to learn it." Nathalie says she appreciated the help she received from the program staff and says, "I found it really nice. There was lots of explanation and the teacher was awesome!"
After graduating, Nathalie started her own business called Nat's Web Design Services. Unfortunately, without her own transportation, Nathalie struggled to find new clients. She really needed to travel to larger cities in her area in order to market her services, but was unable to do so.
Shifting direction, Nathalie decided to build an online store while continuing to search for viable employment opportunities. In 2020 Nathalie went on to build an online clothing boutique called Diva Spot Boutique by utilizing her new IT skills.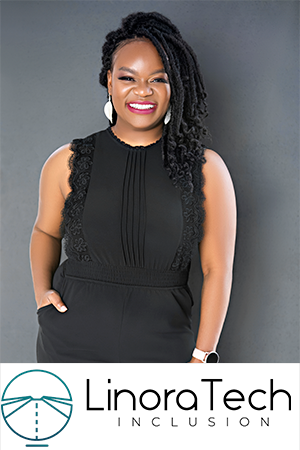 Nathalie would eventually come full circle and return to Make A Change Canada in 2021 to receive assistance through the GoRemoteNOW! program. This program supported Nathalie in finding the right employment opportunity—one that would provide her with meaningful work in her new career, while allowing her to work from home and comfortably manage her disability.
"I didn't want to work in a restaurant, [because] it would have been too hard on my back. [And] I couldn't travel to Ottawa for work in web design, because I am on foot," explains Nathalie.
Based on her prior experience with Make A Change Canada, which Nathalie recalls as being very positive, and her strong desire for gainful work, she jumped at the chance to join the GoRemoteNOW! career services program. This would give Nathalie the opportunity to apply for any available work experience opportunities through Make A Change Canada.
"I went ahead with the program. They helped me create a new résumé and we put together my likes and dislikes for jobs," recalls Nathalie.
Ultimately, Nathalie was able to secure a remote work experience placement with LinoraTech Inclusion as their Social Media and Digital Marketing Assistant.
"To my greatest surprise I was hired! That was a big 'wow' to me. It had made my day. Finally, a real job!" exclaims Nathalie. Although Nathalie has worked hard all her life, she describes this as her first "actual job" and meaningful employment role.
LinoraTech Inclusion is a growing company based in Ottawa, Ontario, that provides support, services, and training in digital accessibility compliance to help businesses and organizations improve their web and document accessibility, and enhance the user navigation experience.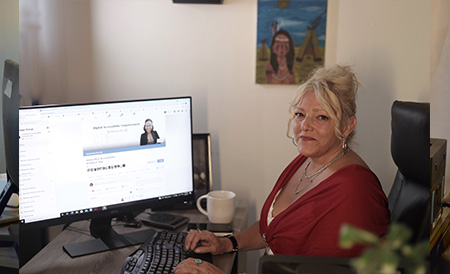 In 2020, Flora Bazie, CEO and Founder of LinoraTech, had approached Make A Change Canada on the advice of a colleague as a way to help locate workers for her business. Flora is an advocate for accessibility and inclusion, and LinoraTech's goal is to ensure that websites, web applications, and documents are inclusive, accessible, and meet compliance requirements.
Flora says that she immediately identified with Make A Change Canada's mandate of supporting people facing barriers to employment in finding meaningful work and was impressed with Make A Change Canada. Flora says that in her case, she received help with defining the specific roles she needed to fill, and was subsequently provided with outstanding candidates who self-identified as living with a disability.
Through the GoRemoteNOW! program, Flora hired three new employees—including Nathalie—on work experience placements. Flora says she was presented with "amazing candidates" and was quickly impressed with Nathalie's abilities. LinoraTech needed a Social Media and Digital Marketing Assistant and selected Nathalie for the role.
Flora expresses her appreciation for the support she received as an employer from Make A Change Canada and says she found the process to be "transparent and well-structured." Her advice to other businesses is to "take a chance and reach out to Make A Change Canada to help support your business." Flora quickly adds, "It all starts first with a decision."
Nathalie was equally thrilled at finally getting what she considers her first "real" employment opportunity—one that offered meaning to her life, sustainability, and the opportunity to grow. Nathalie says that she is grateful for the time she spent working with LinoraTech Inclusion. Her responsibilities included video editing, social media creation, and digital marketing.
"Some [projects] were out of my comfort zone, but I persisted and did a good job. I have learned new things along the way that I find will be helpful to me in the near future and maybe will help me find a new job," says Nathalie. Her new skills, such as social media marketing, will be helpful in Nathalie's future employment pursuits. Through her duties in working for Flora, Nathalie also discovered she enjoys completing research tasks and reporting.
Nathalie says, "I loved it [the job], but it's too bad this job is not forever. I loved the fact that it was remote!" While appreciating Flora's kindness and describing the ability to work from home as a great experience, Nathalie adds that she would love to meet Flora in person one day.
As for her time as a program participant with Make A Change Canada, Nathalie says, "I recommend this program! Even though you may not be looking for a job, they will help you with a business plan, in a job search, and they are really awesome. They don't put you on the shelf," says Nathalie.
Nathalie has a renewed sense of optimism for her employment prospects and confidence in her skills after participating in Make A Change Canada's programs and because of her positive work experience at LinoraTech.
"Thanks to the wonderful team of [at] Make A Change Canada, my life has changed, and my dreams are starting to bloom! I really enjoyed working with both Mary Alton [Program Manager] and Melissa Hejja [Employment Specialist], and I recommend them whether you want to take a course or join one of their programs. I am 100% confident that you will not regret joining [these] awesome people," exclaims Nathalie.
Today, Nathalie is feeling proud and encouraged through reaching her career goals. No matter what obstacles got in her way, Nathalie has truly succeeded in acquiring new employability skills, finding viable employment, and is now operating her own online fashion boutique called Diva Spot Boutique. In addition, Nathalie continues to offer freelance design and web development services and is interested in hearing from other business owners who require assistance.
The perseverance Nathalie has shown throughout life's trials and tribulations is truly impressive, and it is Nathalie's sincere hope that others will find inspiration in her success story.      
---
Please note that before publication and distribution, all participants in our success stories have willingly shared their details with us and provided Make A Change Canada with signed authorization and release consent. To learn more about our privacy policies and practices, please refer to our Privacy Notice Statement, available at https://www.makeachangecanada.com/privacy-policy. If you are a client or graduate of our programs and would like to share your own story, we warmly invite you to get in touch with us today at contact@makeachangecanada.com. We look forward to hearing from you!