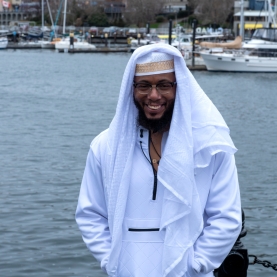 Hakeem - A Career Success Story
In June 2020, Hakeem Kareem Al-Zayyidi from Victoria, British Columbia, had just graduated with his Bachelor of Business Administration (BBA) degree from Royal Roads University. Hakeem was feeling optimistic for his future, but then the world began to shut down as the COVID-19 pandemic took hold. Things seemed to be moving in a backward direction considering that Hakeem had received a $2,000 scholarship from the B.C. Schizophrenia Society's Yes2Me Scholarship Program in 2019, which helped him successfully complete his studies and graduate.
Due to the shutdowns that came with the pandemic, Hakeem faced the setback of losing the job he had held for five years as a dishwasher in the hospitality industry—and then the additional struggle of finding a new job. He also had the added challenge of managing his mental health issues throughout this time.
Shifting direction, Hakeem decided that he wanted to start his own business and found Make A Change Canada through a web search. After submitting his online application for Make A Change Canada's Tech Diversity Online program, Hakeem was matched with Louise Doyle, the organization's senior business advisor. Through this supportive program he was able to use his passion to inspire and help others living with mental health issues as a strength going forward.
"Louise helped me with my business plan. It took me about eight months to develop," explains Hakeem. "Although I have my business degree, I know I have weaknesses and I know I have limitations. I know my strengths and I know I'm not very good at developing plans on my own, so I thought it was better to have someone guide me."
Louise assisted and supported Hakeem with his business planning until he completed the program in March 2022. Even though Hakeem had his BBA degree and had also earned a Diploma in Business Marketing Options from Camosun College previously in 2017, he still needed support with identifying his strengths, which became a key factor in creating a solid business plan.
"Louise helped me to not focus on all mental health illnesses, but to focus on the illness I identify with, which is schizophrenia. I identified in my business plan that I wanted to get a job to work with people with mental illness…and [also] as a motivational speaker with those components," says Hakeem.
"I'm happy I did [this] because I came up with a solid business plan."
Hakeem was diagnosed with schizophrenia in his early 20s, and he maintains that his struggles with this illness have taught him that it's important to always keep searching for answers. "I've truly come a long way from an I.Q. of 74 when I was first diagnosed with schizophrenia," says Hakeem.
Now, at age 33, Hakeem is a Motivational Speaker and owner of Hakeem Inspires (Hakeem Al-Zayyidi Enterprises & Associates), which he proudly launched in November 2021. Hakeem explains that the "black and white hands" in his company logo represent the different shades of colour of white and black and they also represent the idea of diversity and inclusion.
Hakeem has had a life journey filled with challenges. The most significant event for Hakeem was the loss of his twin brother, Kareem, in 2015, who, Hakeem notes, also lived with schizophrenia.
"Right now, for my business, myself as a motivational speaker…I reflect on who I am as a person," explains Hakeem. "Before, for some reason, I was a bit too arrogant, selfish, and self-centered. So that changed."
"Hakeem—in my faith Islam Arabic—means wise and intelligent. And [this description] challenges that of my identical twin's name of Kareem, which means honourable, generous, and kind. Right now, I'm challenging that," says Hakeem, in describing how he examines the relationship between his behaviours, thoughts, and actions, and his own growth as a person.
This growth is part of Hakeem's desire to become a servant leader that he defines as "being concerned with investing in others and helping others in the community." In this spirit, Hakeem likes to include a key concept in his speeches that "when 'I' is replaced by 'we,' even mental illness becomes mental wellness."
In October 2019, Hakeem gave a heartfelt testimonial of empowerment for people living with schizophrenia and their families in an article for Innovative Medicines Canada, titled Hope is Hard Work. Hakeem has also participated in Udamma fashion shows that promote community and cultural diversity, including Nigeria Independence Day 2019 and Yanga: A Pop-Up Afrocentric Fashion Show, Summer 2020. Since then, Hakeem has started designing his own inspirational T-shirts.
"I created a T-shirt called 'You Inspire' that I use in my presentations," says Hakeem. Through a partnership with Mynd Management, Hakeem hopes to continue adding to his clothing line.
In November 2021, Hakeem gave a speech as a program participant at Connections Place in Victoria. Hakeem was subsequently hired by Connections Place for marketing work and as a program educator. He recognizes that this opportunity allows him to positively impact others living with mental health issues. Hakeem hopes to help other members of Connections Place share their stories as part of a public speaking group and to educate about mental wellness and recovery—and, thereby, helping to reduce the stigma that people with disabilities often face.
Hakeem says his presentations bring a "dynamic edge" to his audience. He likes to use basketball as a metaphor for life, with the circle of the mini-basketball representing different issues, such as the pandemic and homelessness. During each of his presentations, whether given in person or online, Hakeem tosses several mini-basketballs out to his audience. He then asks everyone to say a word of encouragement or kindness to a friend, or just wave if they are feeling shy. As a result, those in attendance start talking to each other and gain a feeling of community. Hakeem would love to take his message further by reaching out to the sports world.
"I have big dreams of speaking to NBA teams one day when my speaking skills improve," says Hakeem. He adds that sports teams such as "the NBA, NBA G league, basketball camps, college and university teams, and athletes are not immune to mental illness."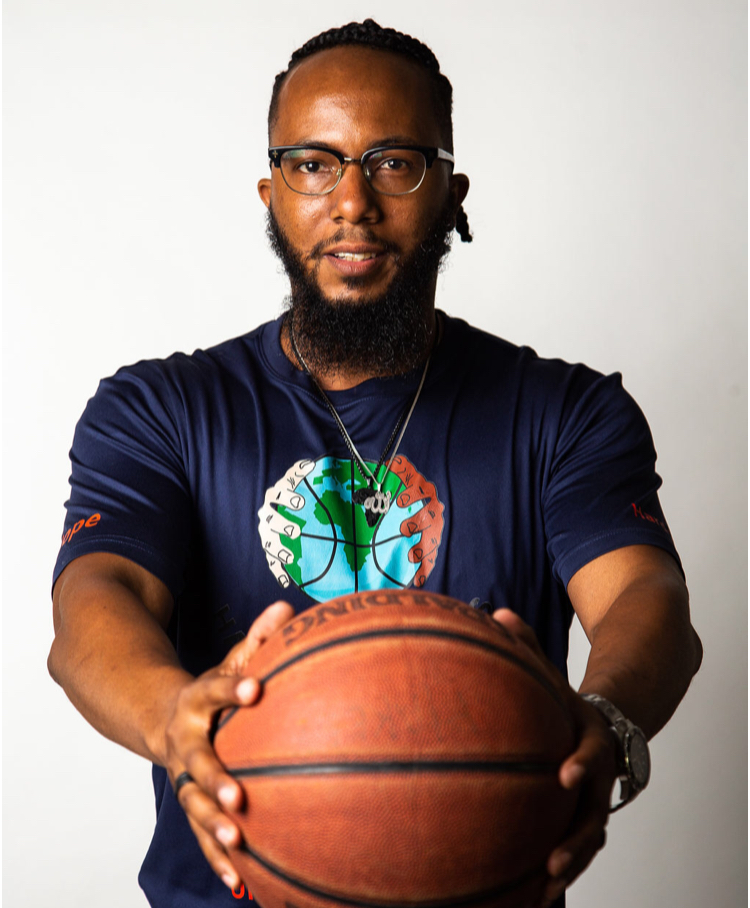 Doors continue to open for Hakeem in his local area when he least expects it. He was recently offered two jobs, one as an accredited speaker for the Nanaimo Disability Program with Toastmasters and the other as an advisor for a local community organization. Currently, these roles do not fit into Hakeem's overall plans, but the fact that these organizations have offered him an opportunity gives him hope for his own future and that of others.
One goal close to Hakeem's heart is the desire to develop a program in Victoria aimed at helping others in Islam who live with mental health issues. He has converted to Islam and wants to make an impact for others in the quest for diversity and social acceptance.
"I was the first person to actually speak out locally about schizophrenia at the Islamic Centre," says Hakeem. "The faith leader, which is the Imam, allowed me to speak and represent what it's like to have schizophrenia, and I felt empowered to be able to open up other people's minds," he adds.
Hakeem says that he has connected with friends and other people in his local community, and together they have been investigating how to start a nonprofit organization or program to help those with mental health issues in Victoria and throughout B.C. and Canada.
"It's [mental health issues] absolutely frowned upon and not talked about enough," maintains Hakeem.
On his social media accounts, Hakeem says that people from different parts of the world have messaged him and thanked him for speaking up about mental health issues, especially those who share his faith. As a result, Hakeem's goal is to share his message with others and help them by sharing his own experience.
"I hope to talk to other mosques and Islamic centres, including speaking again at the Muslim Youth of Victoria."
Hakeem tells others living with mental health issues or other disability-related challenges that Make A Change Canada is a great option if they are looking for employment services, coaching, mentoring, and future employment or self-employment options.
He describes the support as "…meeting you where you're at, working with your abilities, and helping you identify your strengths and weaknesses." Hakeem adds that his experience was "easy going, no pressure, and they really work with you."
When asked if he has any regrets, Hakeem says that he wishes the program lasted longer so he could have gleaned more time with his business advisor. Although he has an educational background in business and in-depth knowledge of marketing, Hakeem says he found Make A Change was a perfect fit due to the guidance he received, and particularly in the areas of processes, structuring, and even in the fundamentals of public speaking.
Hakeem continues to inspire others, and closes with, "It might be scary to try something new but they [Make A Change Canada] really make it easy for you and work with you…regardless of your level of ability and depending on the type of work you want."
Starting from an uncertain future two years ago, Hakeem has successfully built a strong foundation for both his employment and entrepreneurial pursuits by accessing the right supports. Through his work he is now helping others experiencing similar challenges to find hope, inspiration, and empowerment.
Follow Hakeem Inspires on social media - Facebook | Instagram | Twitter
---
Please note that before publication and distribution, all participants in our success stories have willingly shared their details with us and provided Make A Change Canada with signed authorization and release consent. To learn more about our privacy policies and practices, please refer to our Privacy Notice Statement, available at https://www.makeachangecanada.com/privacy-policy. If you are a client or graduate of our programs and would like to share your own story, we warmly invite you to get in touch with us today at contact@makeachangecanada.com. We look forward to hearing from you!
Image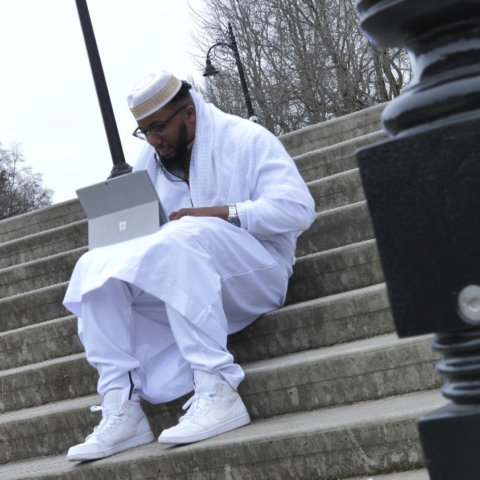 PDF Version