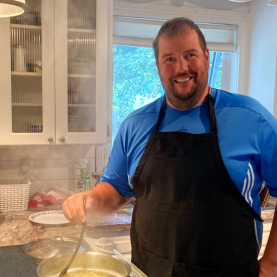 Dave - A Career Success Story
Dave Carragher, age 37, from the small rural town of Meadow Bank, P.E.I., enjoys cycling, triathlons, running races, and spending time with his friends, his family, and his two dogs—Moose and Arlo. Dave's active lifestyle also includes his passion for cooking and baking. In 2012 Dave earned his Diploma in Family Science from the University of Prince Edward Island (UPEI), but he still faced challenges finding a job that would meet his accessibility needs and provide a sustainable income, given his severe visual impairment.
Dave always thought that if he could develop his own home-based business, he wouldn't have to worry about the accessibility barriers or lapses in income he'd been experiencing. Dave began to dream of something better and started exploring the idea of turning his talent for cooking into a business.
It was only after joining Make A Change Canada's career services program in 2021 that Dave was able to receive the business planning support he needed to establish a successful home-based business.
Although Dave is highly capable as an employee, he explains that as someone who is blind, he faces unique challenges when searching for a job. Dave lists his three biggest barriers as: employers who are reluctant to hire workers with visual impairments, employers who are unable to provide the necessary accommodations, and the lack of transportation services in his small community of approximately 300 people.
"The most difficult challenge I face with getting work is transportation! I have to rely on drives from anyone and everyone or take a taxi each way, which is very pricey," says Dave. "Transportation is [more difficult] than getting hired. It's about how to get there. This is particularly true living in P.E.I. where public transportation services are not adequate or are not always available," he adds.
Dave was born with a genetic disease called retinitis pigmentosa or 'RP,' meaning he has no central vision. Dave began losing his vision at the age of 10 or 11, and although he can see large shapes, he cannot see any detail. Due to the loss of his central vision, detailed tasks such as reading became difficult, if not impossible, for Dave. Dave says he cannot see written or printed content, so he relies on a screen reader to help decipher emails, text messages, and print, and he uses a white cane to navigate his surroundings. This also means that Dave needs to stay very well organized.
Dave is most in his element at home in the kitchen and says it's "definitely the most organized part of my life." He has specific places for containers, spices, and other cooking essentials, which allows him to demonstrate his flare and unique flavour in the kitchen.
Dave grew up in Meadow Bank, P.E.I., and although he has moved several times in his life, Meadow Bank is where his introduction to cooking first began. He remembers helping his parents and grandparents in the kitchen as a child, preparing pizza, rolling out cookie dough, and "squashing" the cookie dough with a fork before placing into the oven.
Later, Dave would bake cookies and squares with his grandmother after her retirement, and they would work together to adapt recipes for family members with food allergies.
"I love to cook because it's a platform for me to be creative," says Dave. "Also, people really like my cooking. It makes [them feel] happy and brings everyone together."
In 2003, immediately after graduating from high school, Dave decided to pursue a degree in family science with a minor in foods and nutrition at UPEI. Initially, Dave planned on becoming a dietitian. Dave felt this was a good fit given his keen interest in health and nutrition.
After completing the majority of his courses, Dave experienced a massive change in his vision, and realized he would need to reconsider his initial choice of programs. He knew he would have a real challenge with the heavy science courses given his further loss of vision. Dave quickly pivoted right into family science as a more viable alternative.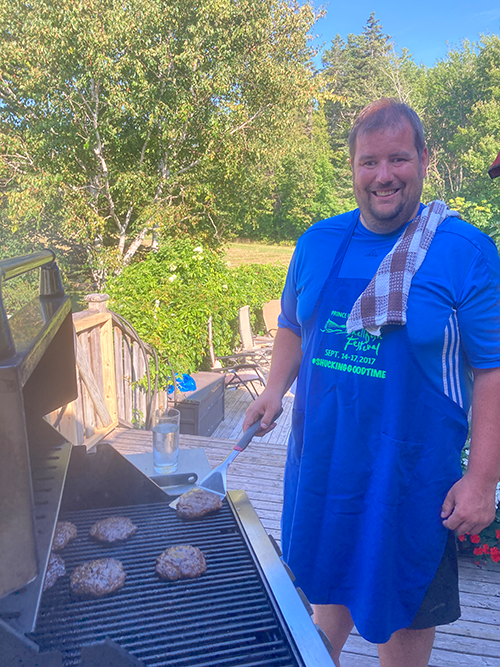 As Dave explains, "Family science is in the same faculty, and I was able to transfer into that pretty seamlessly and not lose a lot of time."
It was while attending university that Dave started to prepare meals more consistently and his passion for cooking really grew. One day he decided to prepare a meal and bring the leftovers to campus so he could eat healthy and save money. This strategy worked well for Dave, and he continued bringing his home-cooked meals to campus each day. Sometimes it was a deconstructed salad and other days a pasta dish.
It wasn't long before Dave was also preparing meals for other students. His peers enjoyed sharing in his healthy and delicious homemade dishes.
Once Dave's spark for preparing culinary delights was ignited, he searched for more ways to cook up new ideas in the kitchen and started creating his own recipes. Dave seriously began to consider the idea of giving cooking lessons to both sighted and unsighted people, but it would take several more years before Dave could turn this concept into an actual business.
Dave graduated from UPEI in 2012 and began searching for work on P.E.I. Aside from finding a few temporary jobs, Dave continued to experience real barriers in his job search.
In 2017, Dave moved to Gatineau, Quebec, and found some employment nearby in Ontario for a short period of time. While living in Gatineau, Dave initially started working on establishing a cooking business on the side until he could find full-time employment.
Dave's cooking endeavours started innocently enough by sharing food between friends, and afterwards, being invited to teach cooking classes. Dave was happy to teach a few classes and earn some extra money to buy Christmas gifts.
"I had a friend that I met [in Gatineau], and they were teaching cooking classes on the side. [They] encouraged me to start, because they had tried my cooking at a potluck group that they ran, and liked it," explains Dave.
In 2018 Dave started Blind Man Cooking as a side business and began teaching classes out of his home and selling baked goods at markets. His passion and belief in what he was doing was solid and never wavered.
Dave moved from Gatineau to St. Stephen, New Brunswick, in 2019 to be closer to family. Regardless of where he lived, Dave continued to cook and bake in an effort to establish his business in a bigger way. He also maintained an active job search and applied for any full-time job he felt qualified for.
Then in 2020, Dave began hosting online cooking lessons for the Canadian National Institute for the Blind Foundation (CNIB) and produced a series of cooking videos called Summer Time Cooking. Later, in December 2020, Dave was interviewed by Accessible Media Inc. (AMI) to talk about his business and virtual cooking classes.
Meanwhile, Dave had applied for a remote employment position with Canada Revenue Agency during 2019, and two years later in January 2021, he was awarded a term employment position as an administrative clerk. Still, Dave knew he would continue to need his business if he wanted to generate a consistent income, and so he continued to pursue the idea of developing Blind Man Cooking as a full-time business.
Dave first heard about Make A Change Canada in 2021 while working with a career counsellor at CNIB. The career services program sounded interesting, and Dave knew he would benefit from receiving one-on-one business coaching in developing a solid business plan.
"I [knew I] needed to be attached to a one-on-one business coach. I needed help with marketing and business. I have no business background," explains Dave.
Through funding support from the Government of Canada, Make A Change Canada offers the Tech Diversity Online program to people with disabilities throughout Canada. Dave joined Make A Change Canada's Tech Diversity Online program in September 2021. He says this career services program gave him the supports he needed to grow Blind Man Cooking into a viable business. Immediately after being paired with JA Jonusas, one of Make A Change Canada's two business advisors, Dave began developing his business plan.
Dave met regularly with his business advisor to discuss his progress and resolve any challenges. He says he is grateful for the support he received from Make A Change Canada, which helped him turn his side hustle into a sustainable business.
"The vast amount of business knowledge I've gained over the year, and having the ability to reach out to somebody very knowledgeable about small business, has definitely helped the back end of my business. I hadn't focused on it until now…there wasn't a lot of planning before," says Dave.
With the help of Make A Change Canada, Dave gained the business knowledge he needed to meaningfully develop his culinary business and share his cooking expertise with both sighted and visually impaired clients.
Dave says that through Make A Change Canada's Tech Diversity Online program, he has benefitted in two major areas. Not only did he find the business supports he needed, he also received help with obtaining the necessary adaptive equipment he required to successfully take his business to the next level.
In November 2021, Dave was one of three chefs featured on the Thanksgiving Edition of the Cooking Without Looking TV Show.
"It's like the food network, but with more description. The virtual programming is more geared towards visually impaired people," explains Dave.
Since participating in Make A Change Canada's career services program, Dave has solidified his plans for his business and has identified some larger goals.
"My business has two streams. I bake and sell baked goods at local markets, and I teach introductory cooking lessons to both visually impaired and sighted people. Because of Covid I've done this online, but I've [now] started to do it [out of my home], too," says Dave.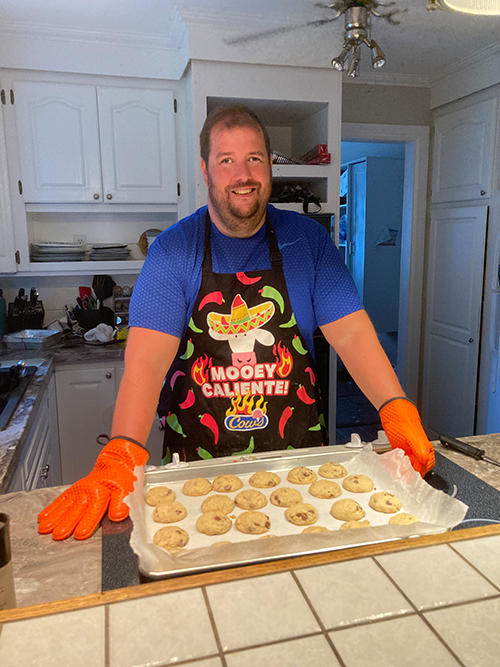 Some of the homestyle baking that Dave sells at local markets includes chocolate chip cookies, peanut butter cookies, and oatmeal raisin cookies—along with new favourites, such as peanut butter balls and old-fashioned fudge bars.
As for Dave's future plans, he has a few more sweet goals in mind. This year he wants to become more consistent with his sales rather than depending on local markets once a week. He also plans to grow his business enough to sell his products through other businesses. And like any passionate chef, Dave's biggest dream is to eventually have a registered kitchen close at hand.
"My big pie in the sky goal is to have a registered kitchen on the same property as my house where I won't have to go other places and cook. It's a transportation issue. [It's about] not having to rent a space where I have to lug stuff all home," explains Dave.
Dave's advice to others is, "Take advantage of the opportunities presented to you!" He tells people to get as much training as possible, and adds, "These [Make A Change Canada] programs are available to help you gain that knowledge. I'm in the business stream which is great, but participate in whatever stream you want to go in."
Dave continues, "[Whatever your situation] don't be scared to try new things…try to start small, and don't compare yourself to other people as everyone moves at their own pace." Dave believes that it helps to try and start as a hobby and sell to friends and family to see if you enjoy doing it.
Dave's interest in health and wellness is one of the reasons he began preparing home-cooked and healthier meals as a student in university. This seeded his passion to express his creativity through cuisine, shared culinary experiences, and his interest in building a larger community of food connoisseurs. With the right supports, Dave was able to realize his dream of creating a viable home-based culinary business. These days Dave is dishing up his cooking expertise and sweet treats to a broader audience and is able to nourish his unique blend of food culture and sense of community, all while building a more sustainable future for himself.
Blind Man Cooking can be found on Facebook and Instagram. Here you will find Dave's schedule for his online and in-person cooking events. Also featured is an interview Dave gave for CKCU FM 93.1 with Jason Dunkerley and a podcast from April 2022 with Atlantic Talk, in which Dave explains how he navigates the cooking process while being blind.
---
Please note that before publication and distribution, all participants in our success stories have willingly shared their details with us and provided Make A Change Canada with signed authorization and release consent. To learn more about our privacy policies and practices, please refer to our Privacy Notice Statement, available at https://www.makeachangecanada.com/privacy-policy. If you are a client or graduate of our programs and would like to share your own story, we warmly invite you to get in touch with us today at contact@makeachangecanada.com. We look forward to hearing from you!